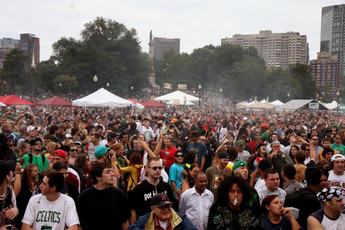 Boston Freedom Rally
Sept. 18, 1999 12-6pm by Becca and Friends
My friends and I arrived at the Commons a little after 1pm while "Ron Levy & His Wild kingdom" were jamming a mean set. The event, which was endorsed by MassCann-NORML, was a great way to spend an afternoon.
R. Keith Stroup founder and current executive director, and the co-founder Steven S. Epstein were both present and spoke to the crowd briefly urging everyone to sign the petitions...."There's a hundred thousand of you here...before you leave today, sign the petitions!"
We found ourselves a spot on the grass somewhat close to the stage, and soon enough we were being trampled by crowds who were rushing to witness what we believed to be one of 72 incidences of arrests that took place at the Freedom Rally. This 10th Annual Rally promoting Legalization/Decriminalization of marijuana attracted all walks of life.
Elvy Musikka made an appearance and spoke to the crowd about her quest for medicinal marijuana. The editor of "Hightimes Magazine," Steve Hager, urging the crowds to get active and political to make a change. They then put on a "Hemp Fashion Show", where we were then informed that government officials had put a ban on hemp seeds from entering the country.
All in all the day was a success with the exception of 72 arrests, one of them for possession of a firearm, which exceeded last year's total. The estimates were about 40,000 were in attendance. We saw performances by bands such as Lil Wolf and the Mojo featuring Shirley Lewis,The Sheila Divine, Babaloo, Sam Black Church, Tree, and the Cannabis Cup All Stars.


The SPEAKERS

John Sinclair. A legend in the pro-legalization movement. His conviction for possession of marijuana sparked a "Free John Sinclair" tent at the original Woodstock. Sinclair is the founder of the White Panther Party and Amorphia, the first organization to fight marijuana prohibition. He has written Guitar Army, a collection of street, prison and political writings.

Dennis Peron. Director of Californians for Compassionate Use, author of Proposition 215 and Founder of the San Francisco Cannabis Buyers Club.

R. Keith Stroup, Esq. Founded NORML in 1970 and served as its National Director through 1979, when marijuana was decriminalized in eleven states. He rejoined the board in 1994, and currently serves as executive director.
Steve Hager. Editor of High Times, the most notorious magazine in the world.
Carla Howell. Carla Howell has been an active opponent of the War on Drugs for over twenty-five years. She ran for Massachusetts state auditor in 1998 and won over 100,000 votes. Because of her success, the Massachusetts Libertarian Party - the ONLY political party that consistently calls for ending the marijuana prohibition immediately and totally - is now recognized as a major party. Next month she will announce her campaign to run for U.S. Senate in the year 2000.
Elvy Musikka. Founder of the Cannabis Action Network and one of only
8 Americans who receives medical marijuana from the federal government.
Kevin Zeese. President of Common Sense for Drug Policy. Author of "Drug Prohibition and the Conscience of Nations", "Drug Testing Legal Manual" and co-author of "Drug Law: Strategies and Tactics," Zeese is one of the nation's foremost authorities on drug policy issues. He is also the co-founder of the Drug Policy Foundation and former National Director of NORML.
Nora Callahan. Founder of the November Coalition:
Advocates for prisoners of the drug war.
Deneen and Justice Clark. In December 1998, Justice was taken from his mother Deneen at birth by the state of New Jersey after testing positive for THC metabolites.

Don Wirtshafter. With Carol Miller, Don co-wrote and published The Hemp Seed Cookbook (1991), the book that re- introduced the world to hemp as a food source. He was the Hempmeister for Hempen Ale, the award-winning beverage from the Frederick Brewing Company, and wrote and published The Schlichten Papers (1993), a book on separating hemp fibers.He is a board member of National NORML.
Michael Cloud. 1998 Libertarian candidate for U.S. Senate in Nevada.

Mike Gogulski. Vice President of Efficacy, A drug reform group in Hartford CT.