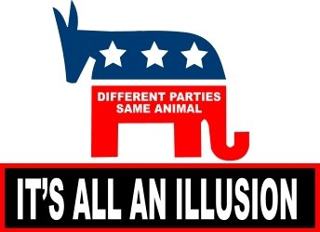 There are two small groups of people who call themselves the Democratic Party and the Republican Party. Each of these small groups has millions of sheeple, who want to believe that they belong to something. These two parties represent less than half of the population together, yet they run everything?
The first thing any of us can do is vote. The year 2016 elections are on the horizon, political hopefuls are already gathering millions and millions of dollars, for the sole purpose of brainwashing you into believing, either that they are the person whom will "represent" you best, or that your opinions are so inconsequential, that you shouldn't bother to vote! If you are pissed off at the government, if you realize that the government has taken the position that "we the people" are the enemies of the state, all criminals just waiting to be caught, processed and dealt with... Then I would like to ask you for a few minutes of your time. Please come and visit my Web Site without pre-judgement and read about a plan, to make us free citizens again, to rein in the federal government, to make our homes safe from violent criminals and the prying eyes of big mother.
Ronald Gascon for President
reg420@aol.com After viewing my web site please forward this message to anyone you think may be interested,
the internet may yet be the salvation of freedom in this country.
Ronald E. Gascon Writer / Activist
Independent Candidate for U.S. President
Currently resides mt Morris NY
Gascon for President